IDT SPRING SHOW 2018 – EVERY BODY DANCES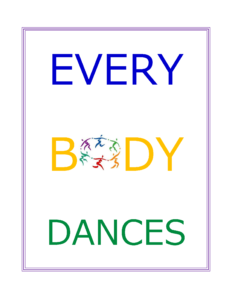 Join us to experience new dance styles and collaborate with bodies that dance in different ways! Learn a new skill! Teach and Show what you know!
Dancers ages 8 and up: No audition or experience in a particular dance style is required to join the cast. Just come to the first rehearsals to get cast in one of 7 or 8 dances
ONE SHOW ONLY – Either March 9 or 10 and we are working to partner with The Des Moines Art Center as our performance venue.
REHEARSALS (9 weeks):
Saturdays 3:30-8:30pm Begin Jan 6 and will include: Ballet, Modern, New Visions and Social Dancing
AND/OR
Sundays 1-7pm begin Jan 7 and will include: Hip Hop, Hula, Modern and Tap
(Note: dancers in the Modern piece should come to both the last hour and a half of Saturdays AND the first hour and a half of Sundays in January so the piece can be fully set before Dora returns to New York)
Rehearsal days may be shortened as we get closer to the performance
Rehearsal location:
The Dance Place
2812 E 29th Street Des Moines, IA 50317
Choreographers: Elizabeth Adams, Janice Baker, Bailey & Brett Thompson, Dora Novak, Joanne Wilson, and Illima Young.
HOW TO PARTICIPATE:
• You may dance in one or all of the dances and the expectation is that you would be in at least 2 or 3 of them by coming to the full day of Saturday or the full day of Sunday, or even better, come to both days and be in all the pieces! Each dance form will be assigned a 90 min block of time within that day, so if you cannot come for the whole day, simply come regularly to a specific time slot when you are available.
• 3 miss rule applies to each dance you are participating in
• You will dance in some part of each dance you commit to performing in unless the choreographer designates you as an "understudy" .
• $35.00 performance fee and current IDT membership is required.
QUESTIONS? contact@iowadancetheatre.org or better yet, call or text 515-979-6622
FOR INFORMATION ON PARTICIPATING IN TAP DES MOINES 2018, go to or click here: www.iowadancetheatre.org/tap-des-moines-2018-backstage/